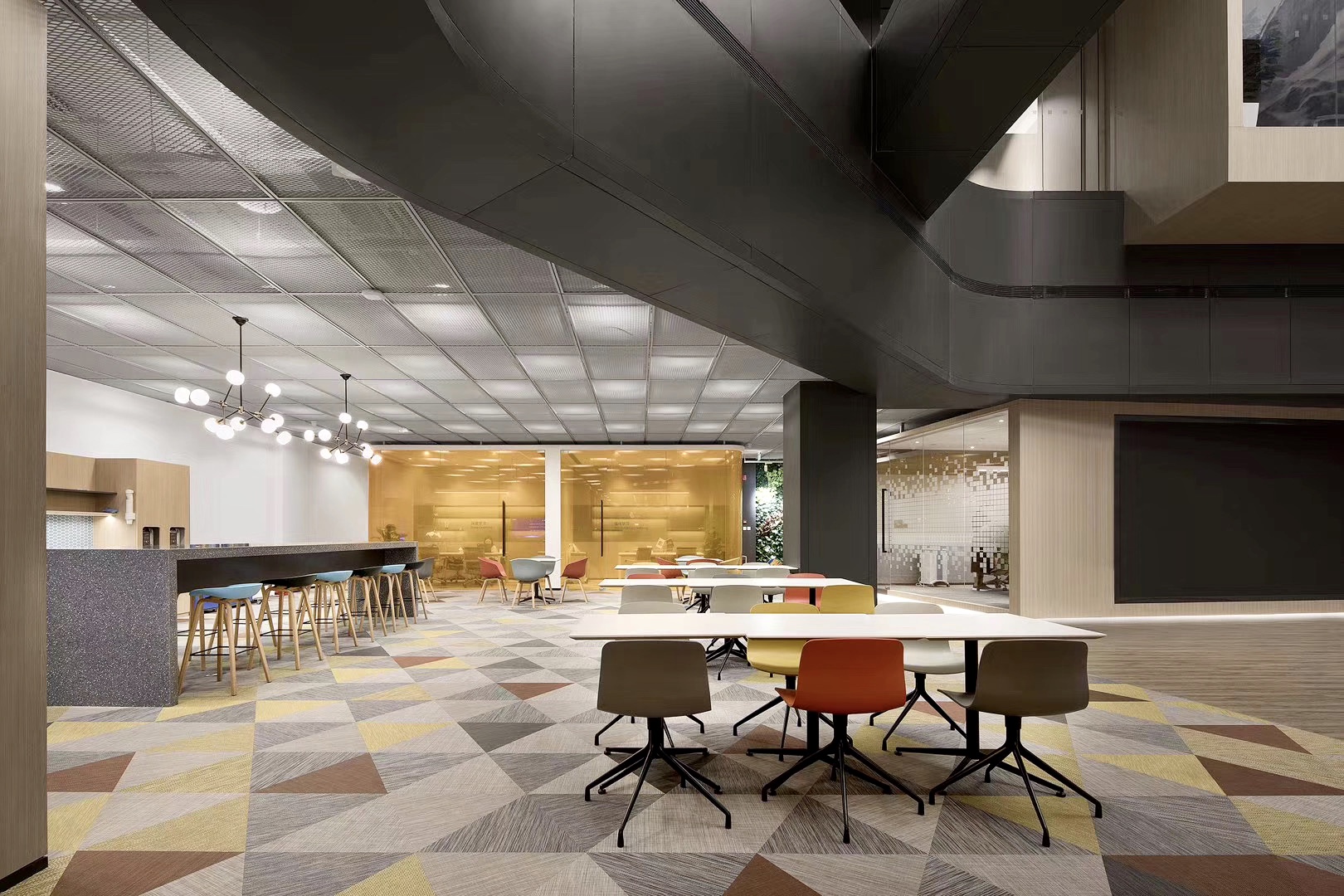 I
f you are interested in a different style of
vinyl flooring
,
woven vinyl flooring
is an interesting alternative. It's one of the more eco-friendly vinyl flooring available compared to other vinyl floorings as well. The best woven vinyl flooring(carpet) will give your living space a unique design and beauty look, and we think you'll be surprised some of the options available.
The Advantages of Woven Vinyl Flooring
Whether you're looking for laminate flooring, vinyl or hardwood flooring, you have to consider the material itself as there are pros and cons when you decide to use these floorings in your home or commercial office. It's also important to remember woven vinyl is actually a combination of PVC, PES and fiberglass, not like other vinyl floorings (WPC, SPC, LVP) although it's considerably equally durable with other types of building materials.
Woven vinyl flooring is a contemporary woven textile flooring that combines the warmth and texture of textiles with the durability of vinyl. Created using unique bi-colour yarns which incorporate solid monofilament fibres for excellent durability, most woven flooring manufacturers flooring has been woven in such a way that no two fibres look the same, which in turn creates a textural visual that is unique, distinctive and contemporary.
Woven vinyl flooring designs calls for a sleek, low profile with architectural finishes. Therefore, woven vinyl flooring or tiles has become the best solution for many designers. But before it got on the market, this product went through extensive testing. It has been discovered that woven vinyl flooring is very difficult to stain, easy to clean, and can be impervious to both dust and mold. This flooring is remarkably breathable and reduces mold like other vinyl products but adds enough friction underfoot to create a slip-resistant surface.
On top of all of that, it's anti-microbial and resistant to UV, heat, bleach and waterproof. Woven vinyl flooring also recyclable and has low Volatile Organic Compounds. Manufacturers like BOLON, SUMBRA,  2tec2, , NTGRATE, are the leading manufacturers of this fantastic material and they can provide all manners of colors and designs for you. Furthermore, woven vinyl flooring can be used indoors and outdoors. Not to mention, they also comes with FloorScore®, Green Guard and SGS Ceratifications, Red Dot Design award and Green Product award, besides they also have long term commercial warranties.
Coupling these features with spectacular aesthetics, designers and their clients are drawn to these products. However, many are making choices based simply on color and design, without understanding the product. This can result poorly for the client if the designer is unaware of what can make this flooring material fail.
Woven Vinyl Flooring Cons
As you can't have the sweet without the sour, there are also a few drawbacks to this type of flooring. There aren't many compared to other vinyl flooring styles, but you may experience woven vinyl flooring problem of yarn shrinkage when you use this flooring for about 5 years.
First of all, it is important to realize that the machines used to produce the weft threads are not able to completely control the tension of the yarn. As a result, there is shading which is inherent in the product. Fortunately, one can offset that optical issue by installing the tiles quarter-turned. When using floor rolls, we advise that designers specify a narrow accent strip of another color or another shade at each seam. While most people will find the seams and shading acceptable, those who are more sensitive to the seams will not notice the shading when like designs and colors are not butted to each other.
It is also important to realize that these floors have a texture. That means they should not receive the same maintenance as solid surface floor, like ceramic or vinyl composition tile. Any attempts at mopping will only spread dirt and stains. Likewise, using a machine with a round pad can cause permanent damage to the flooring. The simple solution? Vacuuming daily! Keep in mind, that if you sweep the area first, it will jostle crumbs from between the fibers to make them easier to vacuum. For deeper cleaning, a floor scrubber that uses two brushes rotating in different directions will restore the floor to its original glory.
Apart from spills and messes, woven vinyl flooring will also show scuffing from shoes that have black rubber soles. There are products that are sold to seal woven vinyl, but our experience has shown that they do not lessen the issue but can make the scuffing a little easier to clean. The best way to mitigate this issue is to choose darker colors or designs with stripes and multiple colors that hide soiling.
Heat can wreak havoc on woven vinyl flooring, and even though woven vinyl flooring is fireproof and anti-scratch, woven vinyl material can be permanently scratched. When sliding equipment, like a gym bench or a chair, the material can actually heat up. This will unfortunately result in a scratch. Although you can try using a scrapper to push against the vinyl in the opposite direction, the best solution may be to replace that area. In areas that might take this kind of abuse, we suggest using tile.
Furthermore, many brands of woven vinyl will fray because they are wrapped around polyester thread or fiberglass filament. When the inside pokes through the vinyl, unsightly white strings will sprout. Although this can happen anywhere, it mostly happens at seams. If wrapped around fiberglass filament, these strings are difficult to remove, as they are hard to cut and can't be burned.
Although the seams can be cold welded for an impervious floor, but we do not recommend doing so unless the application truly requires a waterproof floor. The product is of a low profile and even a careful installer might see the weld loop over the face of the fiber and dry, leaving a milky whitish trail.
Compared to laminate, hardwood and other vinyl floorings, woven vinyl flooring cost is "usually" expensive so the price can be a major disadvantage. On average, average woven vinyl flooring runs around $40-150 per square meter compared to hardwood at $3.5-7 or SPC-LVP-WPC which starts at $3 in most cases.
In spite of how discouraging woven vinyl flooring seems, designers keep asking for it, because woven vinyl flooring is a design mix of beauty and function. When specified properly into the right environments and maintained properly, these floors make spectacular spaces.
Types of Woven Vinyl Flooring
While most woven vinyl flooring used in commercial area, the way it's made and installation make a huge difference in the durability, yarn tension and the overall style. That means you need to understand a bit more about how woven vinyl flooring is made and what raw materials are.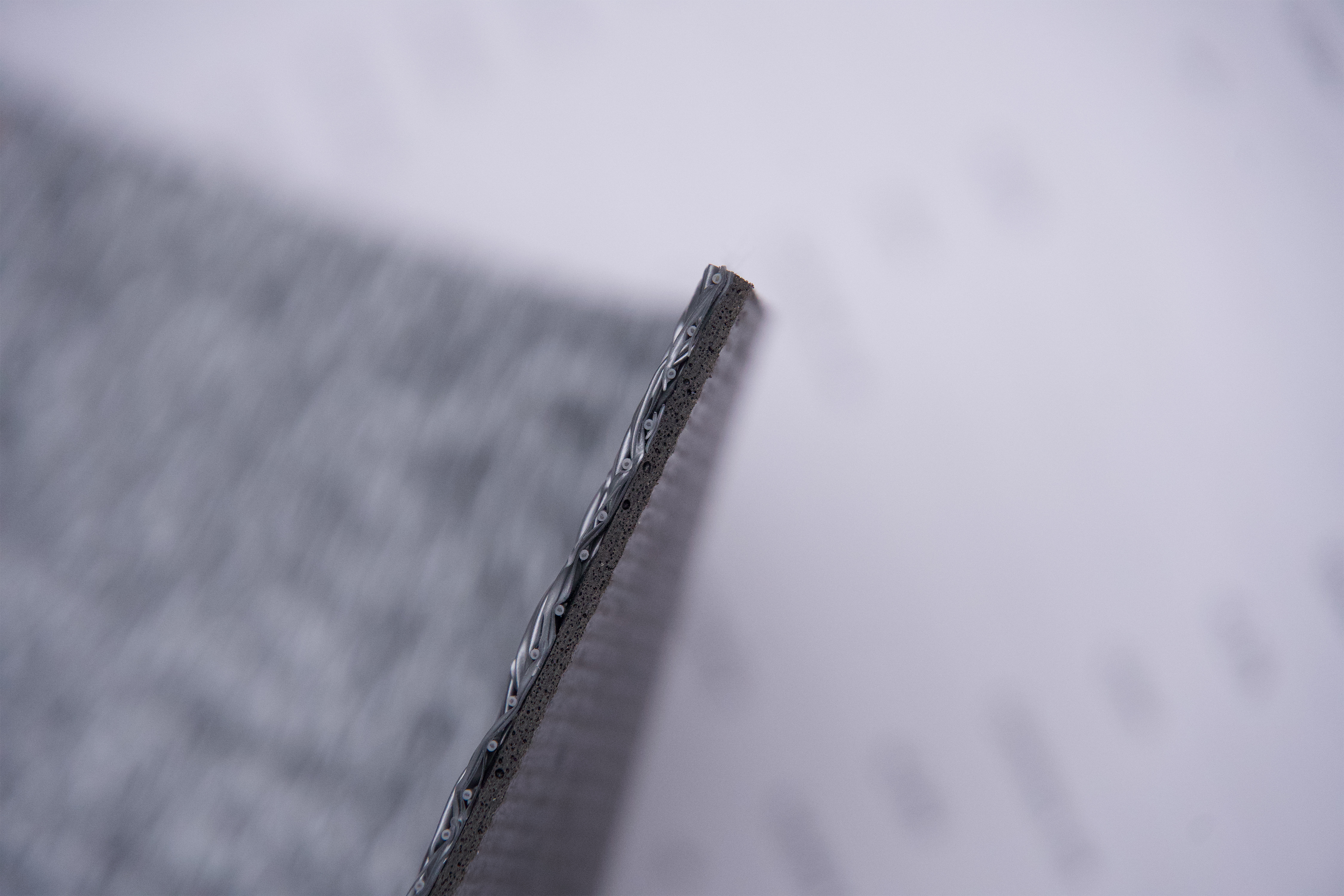 WOVEN LAYER – Top layer is Woven Vinyl Materia + Fiber Glass yarn.
PVC RIGID LAYER – The upper layer is almost same as BOLON and 2tec2.
FIBERGLASS SHEET LAYER – The middle backing layer consists of glass fiber giving the flooring dimension and stability.
ACOUSTIC FELT LAYER (also named Non-Woven Backing) – This bottom layer designed for preventing shrinkage and for acoustic.
BOLON (Sweden)
WEAVE – The weave layer consists of vinyl warp and weft yarns tightly woven together.
UPPER LAYER – The upper backing layer gives the flooring its fire-protective properties.
GLASS FIBRE – The middle backing layer consists of glass fiber giving the flooring dimension and stability.
SOLID BASE – The bottom backing layer contains recycled material and is changeable for specific needs such as acoustics.
2TEC2  (Belgium)
WOVEN LAYER – The weave layer consists of vinyl warp and weft yarns tightly woven together.
PVC LAYER – The upper backing layer is PVC and PES, giving the flooring fire-proof properties.
GLASS FIBER – The middle backing layer consists of glass fiber giving the flooring dimension and stability.
PVC LAYER – This layer is also for fire-proof and for acoustic function.
ACOUSTIC FELT LAYER – This bottom layer designed for preventing shrinkage and for acoustic.
Corktex (Spain)
WOVEN LAYER – High tenacity Poliester/PVC
SOLID BASE – Cork-Rubber/Polyurethane layer, belongs to recycled materials.
Don't be surprised if you see woven vinyl flooring from same manufacturer has different backings, it may indicate that they have mature technology to ensure every flooring fit into environment. SUMBRA offers kinds of backings for roll & tiles, wall coverings, area rugs and mats. SUMBRA recommends customers picking up Non-Woven backing designed for tiles. Customers could choose either PVC backing or non-woven backing for rolls.
How to Choose Quality Woven Vinyl Flooring?
Now that you know the types of woven vinyl flooring and structures, it's time to talk about what you'll need to look for choosing from above styles of woven vinyl flooring.
Woven Weft
Woven Layer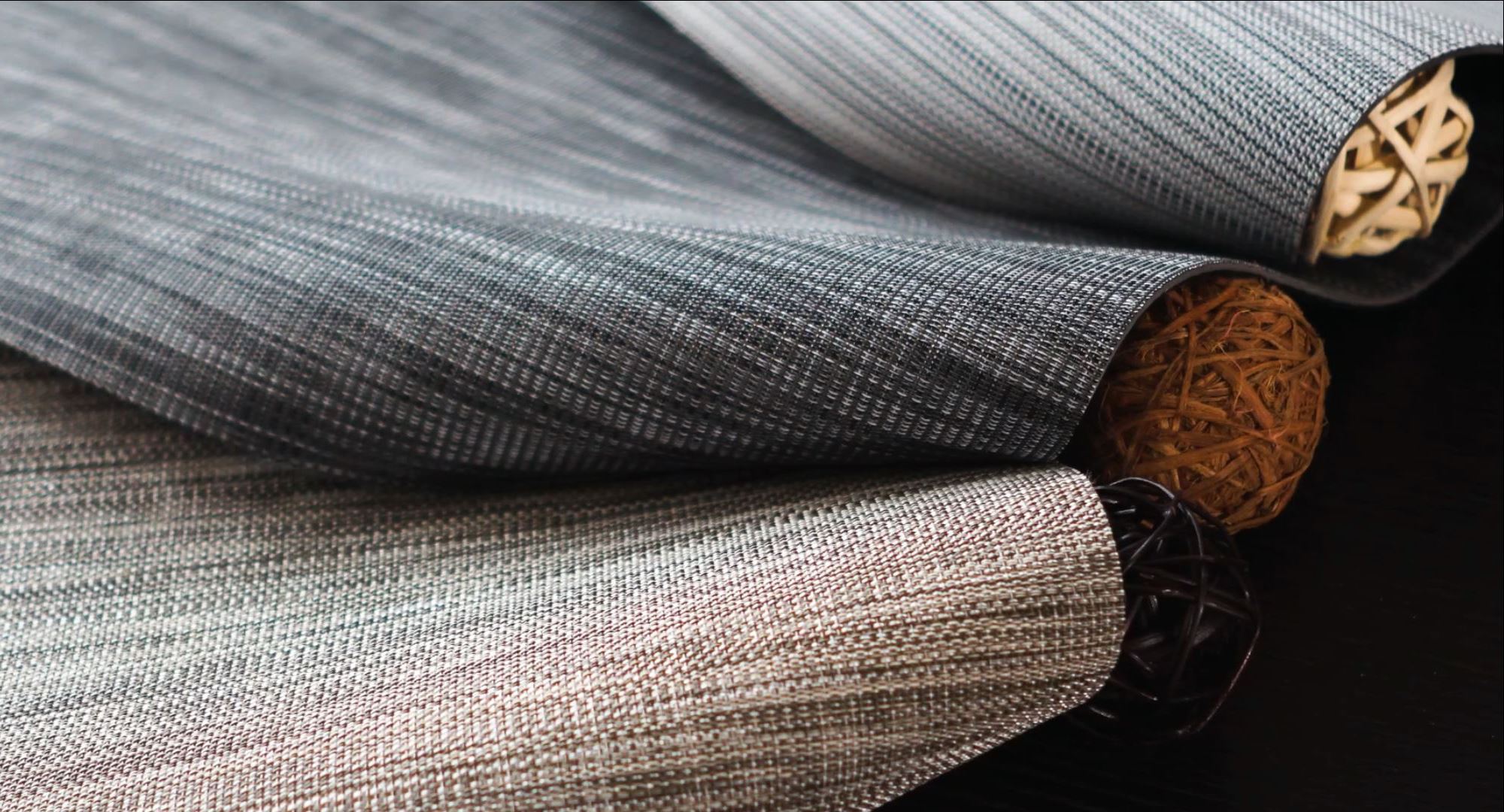 The first thing to consider is the woven layer. This is the layer of beauty, function and protection companies put on top of roll and tiles and varies wildly from one manufacturer to the next. What's used is as important as the durability of the backing, besides, high-quality woven vinyl floorings tend to have more durable top woven layer which means you get more protection against scratches, water resistance, fire resistance, dents, and dings.
While there is no magic number, look for flooring with a durable woven layer by checking flooring wheeled chair test and class level of use index if you expect heavy traffic. What's more, it's important to understand more knowledge about woven vinyl flooring composition and backing which most come from materials of pvc, pet, pes and fiberglass, plus non-woven fabric.
Width & Thickness
This is an overlooked and important area for obvious reasons. Flooring is priced by the square foot, but sold by the box and can come in various widths. With woven flooring, you can choose from medium or wide in most cases which will also vary by the manufacturer to a degree, tile common width 50 cm, roll generally width 200 cm, don't worry, manufacturers support customization in general.
As for the thickness, in our research, we found that most woven vinyl flooring ranges from 2 mm to 5 mm thick. 2 to 3 mm are the sweet spot for most consumers, and the thicker the flooring, the heavier the flooring and the higher cost of transportation.
Certification
Whenever you have to use an adhesive of any kind indoors, it can result in pollution through VOCs or other hazardous chemicals. While it pays to read the labels on your glue, there are a few certifications you can look for as well. GREENGUARD certification is one stamp of approval that you'll want to check for and Floorscore by SGS Global is another. Each company has its own certification process, and while we won't go into details, the best woven vinyl flooring will have one or both of those stamps.
Warranty
Warranties are generally 10 years for majorities of manufacturers, although some manufactures, such as BOLON offers 15 years warranties whether the flooring used in residential or commercial use, but the price is the highest.
Installation Tips for Woven Vinyl Flooring
Wondering how to install woven vinyl flooring? While woven vinyl flooring is not a traditional type of vinyl flooring, it's just as easy to install as any other types of flooring. How easy it is that the flooring can be glue down with adhesive though this will be your first installation.
With woven flooring, it will either need to be glued down, or will use a woven vinyl click system that simply lets you slide planks together. That will vary by brand and manufacturer, but there are a few tools you'll need to have on hand along with your solid base.
Whether gluing your flooring down or installing woven vinyl click flooring, you'll need a tape measure, pencil, utility knife, spacers and a ruler at a minimum. All of these items are cheap and should be easy to find if you don't already have them at home. In all, the best installation tip is that you can hire a professional for the job…
Woven Vinyl Flooring Prices
Estimated Price: $10 – $160 square meter or more, please contact above brands about your local distributors for price.
BOLON flooring Price is around 95-160 USD/sqm, Installation cost is 8-15 USD/sqm.
Dickson Price is around 100-120 USD/sqm.
SUMBRA price 10-15 USD/sqm, woven layer is same as BOLON.
Fitnice(Vertisol) Price is around 30-40 USD/sqm.
Ntgrate price is around 30 USD/sqm.
2TEC2 price is around 35 USD/sqm.
Infinity luxury woven vinyl price is around 30-40 USD/sqm.
Chilewich woven flooring is more than 100USD/sqm.
The Best Woven Flooring Brands Reviews
| Brands | Backing | Certifications | Warranty | Country |
| --- | --- | --- | --- | --- |
| | | | | |
| | | | | |
| | | | | |
| | | | | |
| | | | | |
| | | | | |
| | | | | |
| | | | | |
| | | | | |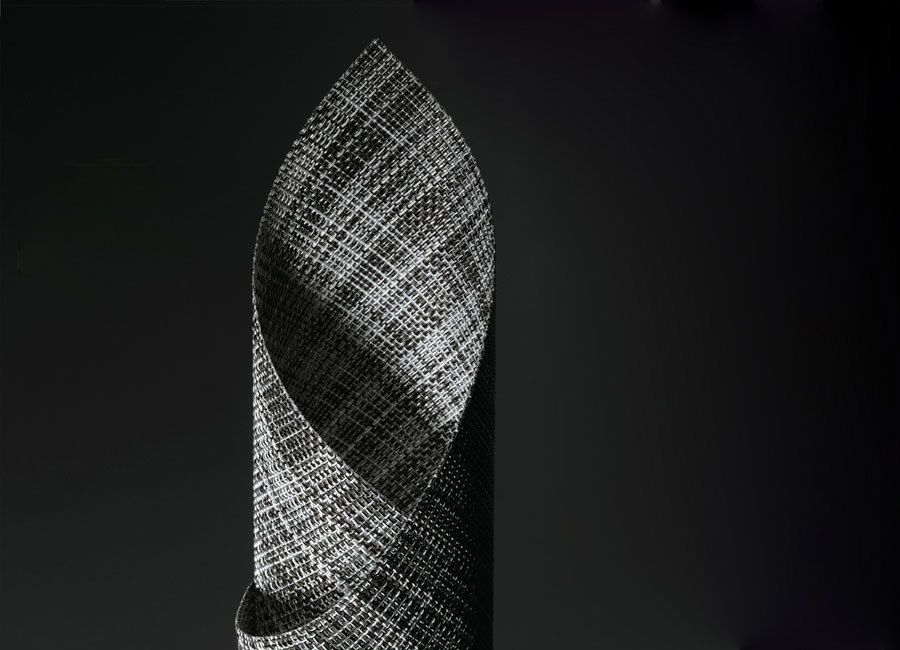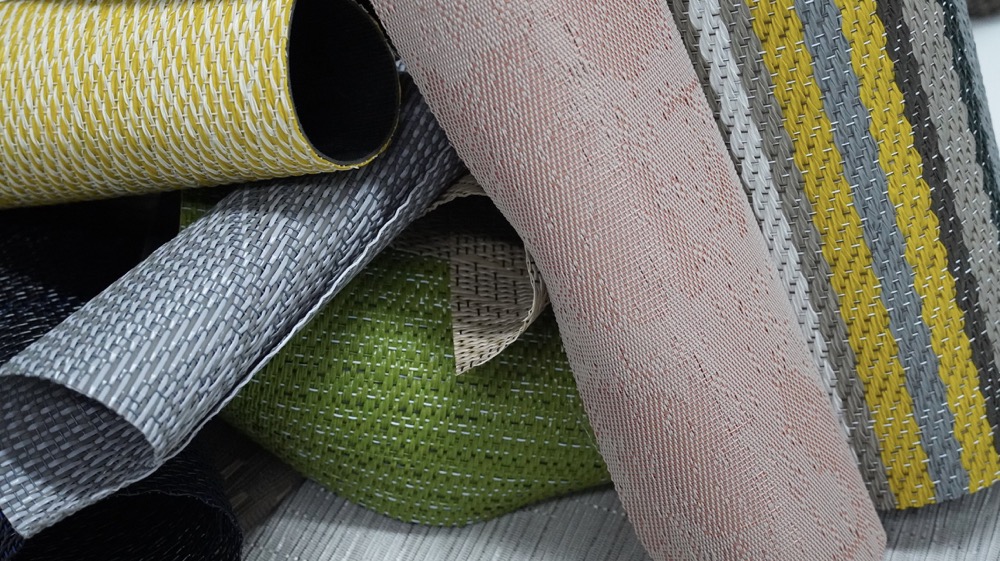 SUMBRA is a green woven technical products manufacturer in China, it has been producing eco-friendly woven vinyl flooring, wall covering, area rugs and floor mats over 15 years and provides customers with a range of woven collections from Delux to Jacquard. Although SUMBRA doesn't offer a one-stop-shop service, it's sold direct, you need to purchase them from China online, and pick up installation tools from your local installation suppliers or just hire a professional to help you.
All SUMBRA woven products made of PVC, PES and fiberglass with ecological manufacturing technical of hot-melting. The company provide comfort, pvc, pvc foam, non-woven and thin pvc backing for their products. Comfort backing used for rolls and tiles, non-woven backing mainly used for tiles and wall covering, pvc foam backing used in area rugs and floor mats. If you are interested in Chilewich woven area rugs and mats, SUMBRA would be an affordable option.
Pricing for SUMBRA's woven vinyl flooring starts at reasonable level in the market, their aim is to provide high quality woven vinyl products to customers with good service and price and help clients build their own brands. At present, SUMBRA is one of the more affordable alternatives available and safe to use as they are SGS certified and approved by European and North American customers.
BOLON
BOLON is a family business led by passion for beautiful woven design floorings with uncompromised ecological product qualities. Their main focus is sustainability, durability, cleanability, design that stands out. BOLON lineup woven flooring is suitable for your home and office, and there are over ten collections of woven flooring to choose from with recycled materials, phthalate softeners and heavy metal stabilizers. We also like the fact BOLON Studio is available with different TILES in several shapes from WAVE to SCALE.
If you are looking for woven vinyl flooring that's more eco-friendly, creative and high-quality than other brands and available in different tile shapes, BOLON is well worth a look. This flooring might be a little expensive, their brand and products will give your unique experience.
INFINITY
As the name implies, INFINITY is another company that specializes in top-quality woven flooring although they carry several types of products like woven vinyl marine/RV flooring and common commercial woven vinyl flooring. Founded in 2008, the company provides low VOC flooring for homeowners and contractors alike. INFINITY provides four woven collections from PATTERNS to VALUE, TEAK series mimics traditional wooden flooring with an emphasis on modern woodgrain texture and rich colors. CLASSIC series boasts a large variety of styles woven on a traditional Loom.
Whether you need woven vinyl flooring in a Marine boat, RV, Air Plane or for Contract use, INFINITY has you covered with over 180 style options to pore over from across their product lineup.
INFINITY price over $100 per square foot, and they don't offer a wide range according to customers' needs, so INFINITY isn't exactly budget-friendly like other alternatives. You can pick up their flooring from through Amazon, Ebay and Lowe's or contact the company for a quote on your project.
FITNICE
FITNICE(Company Vertisol International) have been in the woven flooring business since 1982 in Spain, and is considered one of the best woven vinyl flooring brands around the world. Their product range is impressive, and they are certified by all the leading authorities in the flooring world.
With strict quality control and market needs, FITNICE developed four collections which are now available with Chroma, Memphis, Panama and Wicker. Each series brings something unique to indoors and outdoors, and the Chroma series' yarn of the weft is particularly thicker than Memphis, Panama and Wicker.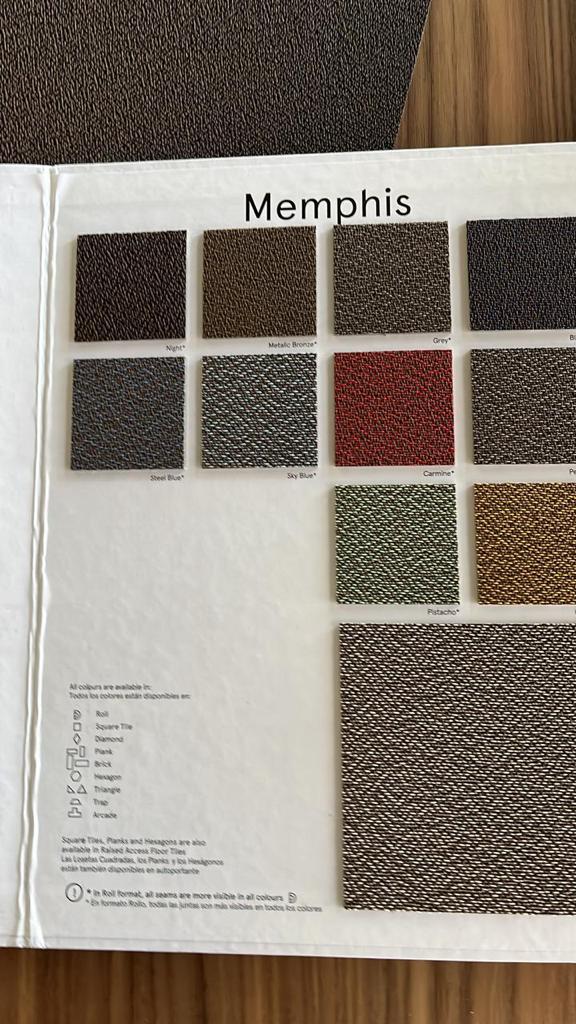 FITNICE's products are also a little pricey and even they are not under the premium category when it comes to pricing which may rule them out if your budget is tight. Pricing for their lineup begins at around $40-50 per sq. ft. and you can purchase them with their local distributors or from Armstrong Flooring Inc.
CORKTEX
CORKTEX is a Spanish woven flooring manufacturer completely different from manufacturers mentioned above or below. The whole CORKTEX®, range is designed with fabrics made with high tenacity polyester and PVC thread with no fiberglass, at the same time, its backing design only with recycled materials of cork-rubber (PET), plus polyurethane, which gives them ecological base that is respectful of the environment.
CORKTEX provides four types of woven collections, including MACBA, METROPOLITAN, LOUVRE, ABU DHABI. MACBA collection is their super item, besides, CORKTEX also offer furniture covering, wall and skirting covering. If you are love completely ecological woven products, CORKTEX is your best choice, just as it has been awarded with Red Dot Design and Green Product Award.
2TEC2 & NTGRATE
2TEC2 and NTGRATE are woven flooring manufacturers both from Belgium. 2TEC2 and NTGRATE are our top options when it comes to woven vinyl flooring brands and flooring price. While NTGRATE does't have a wide selection, you can check out the styles in its projects and get a better idea of what to expect. 2TEC2T has nine woven collections with more than 50 styles, and its customers have been across from Europe to Asia, especially in Japan and India. If you don't have enough budget and want to find a well-known brand, 2TEC2 and NTGRATE would be a good choice. Wanna get high-quality, creative design flooring with good price, SUMBRA is the best option for you.
Dickson®
Dickson® is a woven vinyl flooring brand from France. Compared to other woven flooring brands, like 2TEC2, NTGRATE, Dickson® seems in a state of low exposure. In fact, Dickson® has a long history than 2TEC2 & NTGRATE, but in woven vinyl flooring industry, 2tec2 is likely to much more famous than Dickson® flooring. Anyway, whether you are in France or Belgium, all these three are good choices.
FLOOVER
Floover is a Spanish brand company specializing in marketing and selling LVT, woven, wallcovering, rugs products, all these products produced in Müstair, Switzerland, where the entire production process complies with Swiss law and with the European norms and standards, in addition to the very strict quality controls. Floover designs two woven collections, Range and Jacquard over 50 styles. Floover not only provides woven rolls and tiles, but also offers high-end solutions of woven loose lay and woven click. Now Floover is already present in more than 80 countries, so it's easy for you to purchase Floover products from your local distributors.
Other Alternatives
While those are just a handful of woven vinyl flooring brands at the top, there are others worth considering as well. Just take look at China's woven vinyl flooring manufacturers, most of which are cheaper than or our top options, definitely, SUMBRA playing a leading role in woven vinyl products in China.
Other Woven Vinyl Flooring Brands For Marine Boat, Pontoon Boats and RV Market
Woven vinyl carpet and flooring is more and more popular on Marine Boat and Pontoon Boats, also including RV, there are more than 5 woven vinyl carpet manufacturers in USA, such as Syntec Woven Vinyl Flooring, North River Woven Vinyl Flooring, Infinity Luxury Woven Vinyl, Dorsett Hydro Weave Premium Vinyl Flooring, Chilewich Woven Vinyl Floor Covering, DeckMate Woven Vinyl Pontoon Flooring and Lancer Woven Vinyl Pontoon Flooring.
Why Woven Vinyl Flooring is Popular On Marine Boat, Pontoon Boats and RV?
Woven vinyl flooring delivers comfort and durability you can afford. Available in woven texture or woven teak, this beautiful marine, pontoon and RV flooring is soft to walk on, slip resistant and tough enough to last.
All woven vinyl floorings from different brands are stain resistant, waterproof and easy to clean, microbe and mildew-resistant, fire-retardant, making it much lower maintenance compared to carpet. Woven vinyl flooring is easy to install on boat, this flexible boat flooring provides increased traction that stands up to harsh outdoor conditions.  It also stands up to long-term exposure to UV rays. Its glue-on design offers easier installation than paint-on textures and can be replaced.
Price of Marine and Pontoon Boat Woven Vinyl Flooring Brands.
DeckMate Woven Vinyl Pontoon Flooring
Price: 44 USD/sqm, Thickness: 3.556 mm
Syntec Woven Vinyl Flooring
Price: 44 USD/sqm, Thickness: 2.032 mm
North River Woven Vinyl Flooring
Price: 38 USD/sqm, Thickness: 3.175 mm
Lance Woven Vinyl Pontoon Flooring
Price: 60-70 USD/sqm, Thickness: 4.7625 mm
INFINITY Luxury Woven Vinyl Flooring
Price: 55 USD/sqm, Thickness: 0.8636 mm
Price: 67 USD/sqm, Thickness: 2.032 mm
SUMBRA
Price: 8.5 USD/sqm, Thickness: 2.5-2.8 mm, Width: 2.00 m
Price: 9.8 USD/sqm, Thickness: 2.8-4.5 mm, Width: 2.00 m
Chilewich Woven Vinyl Floor Covering
Price: 190-250 USD/sqm, Thickness: 2.921-5.6624 mm